…and why you can't win for losing, these days.
A bunch of queerfolks around the world plan on queerin' up Chick Fil-A today as a counterprotest to "Chick Fil-A Appreciation Day" (aka: "take a stand against those fags").
I won't be participating.
This is one of those instances of small groups of like-minded people stepping up on public platforms and talking directly at themselves. People who hate gays enough to spend thousands of dollars to bus people to a fast food restaurant don't care what a bunch of queer activists have to say. And queers who are angry enough to mobilize around a counterprotest…well, you'll forgive them if they don't care to listen to anything a group of homophobes has to say.
Protests work when they change opinions. Political demonstrations work best when they show the world that more people than anybody previously believed care about x or want to change y. In this case, though, media coverage of Chick Fil-A Appreciation Day is going to outshine the simple fact that Chick Fil-A has dropped in general public popularity in the days following its COO's announcement that it opposes gay marriage and, well, gays in general: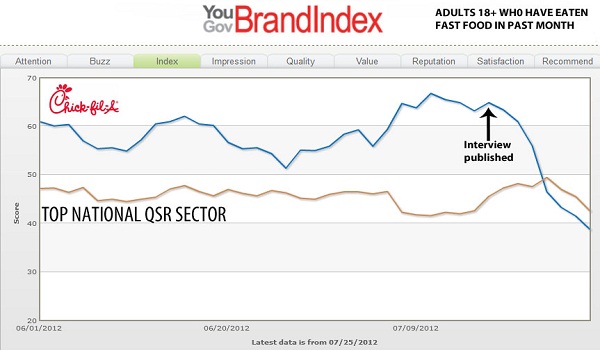 I imagine the popularity drop was only partially about Dan Cathy's anti-gay marriage stance, since it has been known for a while now that Chick Fil-A money was being directed to anti-gay organizations like Exodus International. I suspect that people are just annoyed that politics has officially marred their enjoyment of what is by many accounts a really good chicken sandwich.
I guess another nice side effect of political protest, as a friend and coworker just now noted to me, is the ability to connect with like-minded folks. I bet that's going to be awesome, the meeting and connecting with like-minded folks. But in my neck of the woods, protesters plan to hang out at the KFC just down the street. You guys, KFC got a mediocre rating–45 out of 100–on the Human Rights Campaign's Equality Index report. And Greenpeace International reports that KFC is one of several companies complicit in destruction of our rain forests.
I guess you can't win for losing, these days.